The argument for adopting cobots for palletizing applications is compelling. In the United States alone, overexertion and repetitive motion account for 24% and 8% of workplace injuries. Manual palletizing is not just unergonomic though. It is costly. And it limits palletizing throughput and quality.
Palletizing remains one of the most popular applications for Universal Robots' collaborative robots due to ergonomics and performance. The 'cobots' are perfectly suited to these tasks due to their flexibility, ease of use and attractive total installed cost. They also address concerns around worker health and safety by taking over the laborious and repetitive aspects of the palletizing process.
Combine that with palletizing software and application kits from the UR+ ecosystem and there are numerous and ever-expanding ways to deploy collaborative palletizing automation. The recently unveiled UR10e with 12.5kg (27.55lb) payload adds even more palletizing possibilities.
Traditional palletizing automation has several drawbacks. It is rigid, difficult to program and lacks the flexibility required for modern production. Traditional palletizing robot deployments also require extensive safety guarding to protect humans from harm, which adds to cost and footprint. And without even factoring in ongoing maintenance and programming costs, the initial capital outlay alone is beyond the budget of most small-to-medium sized businesses.
The good news is that palletizing can be made painless –and profitable– with UR-powered palletizing automation. Proven in production facilities worldwide, collaborative robots from Universal Robots combine power and intelligence to help production facilities improve ergonomics, increase quality and throughput and raise profits. And with labor shortages hitting palletizing operations, cobots offer an affordable way to tackle the challenges.Previous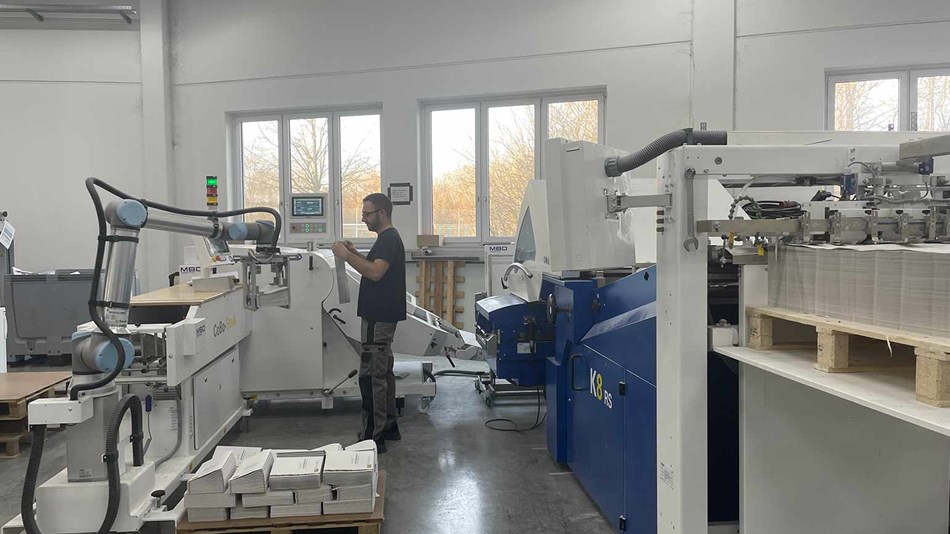 German company Geiselberger Gmbh. realized 100% machine utilization by deploying a UR10 cobot to palletize the print products folded by the Cobo-Stack system from MBO Postpress Solutions.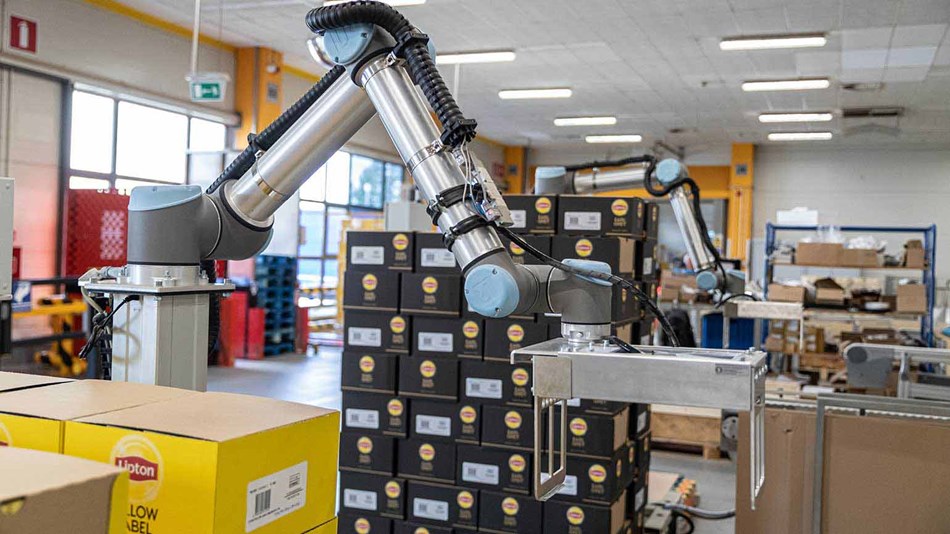 UR10 cobots palletize around 1,100 boxes per eight-hour shift in Unilever's Katowice, Poland facility.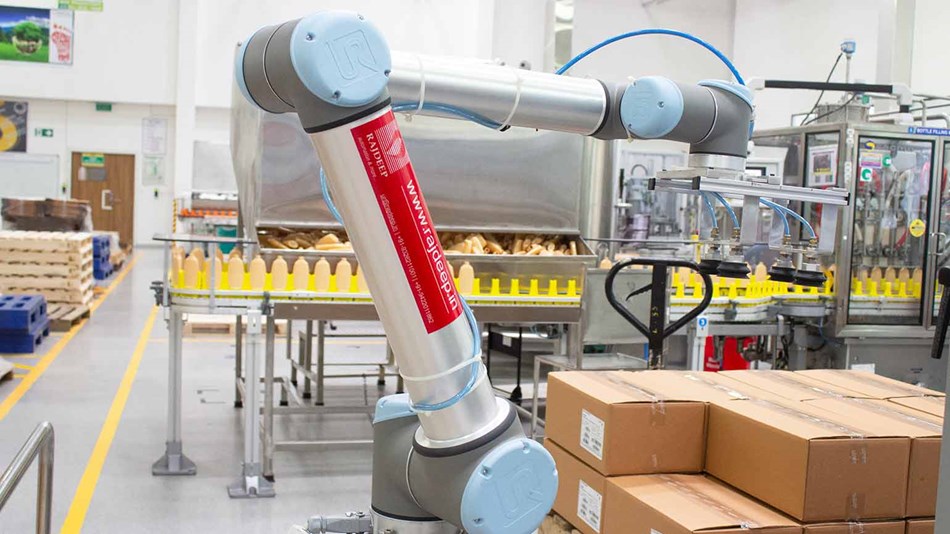 L'Oréal – one of the world's largest cosmetics companies – was facing issues at its Indian plant in Pune, as end-of-the-line operations were being carried out manually, posing a severe ergonomic risk to workers. After deploying the UR10 cobots to handle palletizing, L'Oréal has witnessed a 5% Overall Equipment Effectiveness (OEE) improvement due to the time saved in pallet replacement.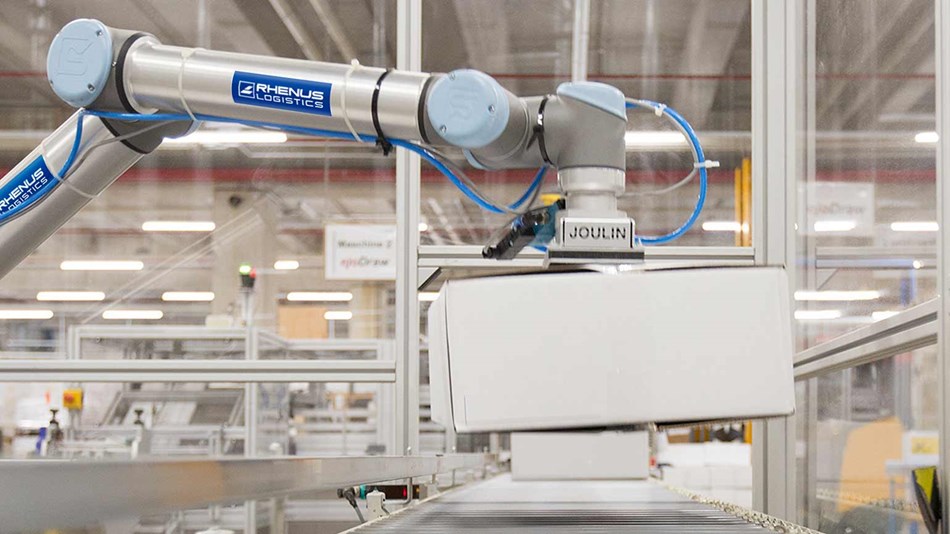 At Rhenus Logistics in Germany, a UR10 picks up boxes from a pallet and places them on a conveyor that takes the boxes to a labelling machine. The UR10 is able to handle boxes of many different sizes and weights.

"The advantage of cobots in general and in palletizing specifically, is their flexibility. This is especially important in today's manufacturing world, where products are always changing and there is increasing demand for more customizations, more options, more colors, more flavors and so on. Automation has to be flexible in order to support these changes in global manufacturing practices"NICOLAS LAUZIERSenior Product Manager, Robotiq
The arguments for using UR cobots in collaborative palletizing applications are compelling, but what additional considerations should be kept in mind when thinking about deploying a collaborative palletizing cell?
There are several questions to consider:
What type of palletizing configuration is best suited to different applications?
Should I use a fixed pedestal or vertical 7th axis setup?
What are the basics of payload?
What sort of gripper will I need?
Does UR+ provide complete palletizing solutions?
What size should the overall footprint of my palletizing cell be?
What are the safety considerations?
Is easy-to-use specialist cobot palletizing software available?
Is there software I can use to easily define stack patterns?
Where can I find real-world case studies?
PALLETIZING INSIGHTS
Our latest white paper –'Painless Palletizing with Universal Robots'—is designed to guide you through these questions with the help of collaborative palletizing experts. The white paper delves into gripper and payload factors, looks at the pros and cons of common palletizing configurations and explores the Application Kits and software available through our UR+ ecosystem.